How is this thing still for sale?
Earlier this week you learned how to
properly cut a birthday cake
, but to do so, you have to survive the initial lighting of the candles. And if you want to do that, maybe don't buy this singing and rotating birthday cake candle that has the potential to look like a hell mouth when lit.
Let's just look at that one part again: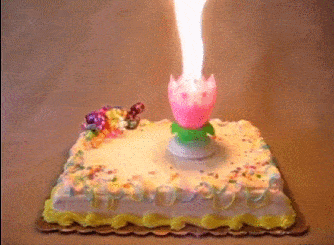 Ahhhhh! It's scarier than most horror films!
This thing is called the "Magical Birthday Candle" and you can buy one for your enemies on
Amazon
. It's only $3! (Small price to pay for potentially disfiguring a human being?) (JK, never buy this thing!!!)
More from Cosmopolitan